The economic cycles: how to understand it and benefit from it (part 2)
George Solotarov

Hits: 107
Rating:

( 2 Ratings )

(2)
---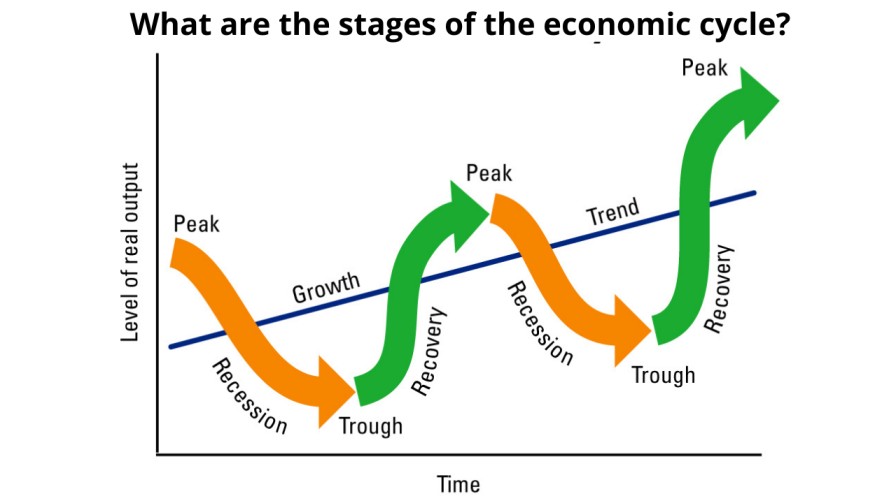 In our last article, we talked about what are economic cycles, and why is the economy cyclical? Today we'll go over other useful concepts in economic cycles.
Phases of the Economic Cycle
Each cycle consists of four phases, usually followed by some sort of break, then everything repeats.
Rising Phase. Employment (unemployment declines) and output, consumer and industrial demand, and labor productivity growth. The implemented innovations pay off quickly enough, and the energy efficiency of production increases. The country's central bank cuts interest rates to accelerate growth, and the national currency strengthens. Stock markets are booming as more investors enter the market as yields increase. The country's credit rating improves and new investments come into the country.
Peak Phase. The period of highest business activity of all macroeconomic agents. Production, investment, demand, employment, stock indices, and real estate prices are at their highest; the growth stops. But purely psychologically, it seems that it will always be like this now. Politicians talk about a welfare society, the budget is full and possibly deficit-free. This phase is characterized by minimal unemployment and maximum capacity utilization. But inflation and the payback period for innovations begin to rise. The country's central bank raises interest rates in an attempt to control prices.
The decline phase (recession). Production, business, and investment activity decline for three months or more. Unemployment increases. Also, other indicators which were high in the previous two phases begin to fall. The central bank cuts rates in an effort to stimulate business activity. Stock markets may continue to rise, but only in the hopes of investors to "skip" the crisis quickly. The population and businesses begin to save money and reduce spending (investment programs are curtailed). Excessive stocks of raw materials and finished goods become a business problem.
The depression phase (the bottom of the crisis). This is the lowest point in the economic cycle. Resource usage is at a minimum. Manufacturing output and employment are minimal. Businesses are closing, investments are being curtailed, and unemployment is at its peak. Real GDP and living standards are falling, and bank rates are at their extremes. People demand reforms and "helicopter money" from politicians.
Over time, the economy evens out, prices become stable, and demand slowly grows. Thus there is a period of stability, followed by a new phase of economic growth.

Economic Cycle Indicators
To determine which phase of the cycle the economy is in, you need to pay attention to the following indicators:
Output. A high rate of production for at least several months in a row indicates a boom, while a low rate of production indicates a recession.

Changes in business activity, the number, and volume of transactions.

Investment dynamics. Investors are usually attracted by two phases - boom and peak. In contrast, it is considered unprofitable to invest in new projects during a downturn. However, the most farsighted and calm investors prefer to invest exactly in the period of recession, to be "fully prepared" when economic growth begins.
Stay tuned for our updates and in the next article, we will tell you about the most famous economic cycles.
---